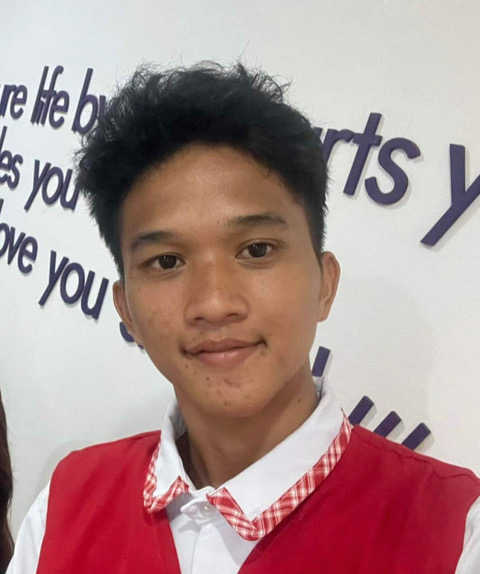 Last February 2023 at a mission D4EVF conducted  at the Divine Mercy Integrated Academy  Wellness Center at Villareal, Western Samar, Philippines, using the new dental office the foundation donated to the Center, a young student volunteered to be one of the dental assistants.
His name is Xydone Jhon Cliff Romano, a senior high school student.
Romano was assigned to many different stations, but it was not until he was designated as an assistant for the restorative dentistry section that staff noticed his immense interest and focus on his assignment. The young man in no time picked up the basic routine is dental assisting, thanks to the capable guidance of one of the dentist-volunteers, Dr. Luz D. Villanueva of Las Piñas City. Dr. Villanueva easily noticed that Romano was really into his work so in between patients she started talking to him. She found out that his interest in the job he was assigned to was rooted on his long-time life ambition.
Romano wanted to be a dentist! But his ambitions and dreams to be a dentist were just that. The young man saw no way he can achieve them because his parents do not have the means to see him through dental school. Upon hearing this, Dr. Villanueva simply kept quiet and did not make any comment. But she knew exactly what to do! As the day progressed, Romano increasingly got better in his work assignment. It was then that Dr. Villanueva spoke to Dr. Ed de la Vega and asked him to work on a few patients with Romano assisting him so that he can validate what she thought she saw on the young man.
After working with Romano on several patients, Dr. de la Vega noticed as well that the Romano was really into his work. He showed his keen interest by asking questions.  He followed instructions to the letter and performed what was expected of him. He also indicated to Dr. de la Vega his dreams to be a dentist and work at the well-appointed dental clinic the D4EVF donated to the Wellness Center. Later in the day, Dr. de la Vega met with Dr. Amry Jane Chavez-Noza, the Philippine liaison of the D4EVF, Mrs. Marcela de la Vega, the CFO/Secretary and Dr. Luz Villanueva. After a lengthy discussion they decided that Romano should be given a chance to achieve his dreams. But first they must do small research on the young man's background and academic record.
Enter Sister Mary Jane Baguhin.
Sister Mary Jane is the Assistant Administrator of the Divine Mercy Integrated Academy of Villareal, Samar. From her, the foundation found out that Romano will be graduating with high honors. He is deeply involved with the Supreme Student Council  and has leadership skills. And he even participates as a member of the school band. She also validated what Romano stated- the fact that his parents will not be able to see him through dental school.
So, the die was cast!
Dr. de la Vega called Romano and told him the good news he never expected to hear. The Foundation will support him and pay for his tuition for 6 years through dental school. But he needs to get his act together and earn himself an admission to a dental school. Dr. de la Vega recommended that he applies at the Iloilo Doctor's College, College of Dentistry at Iloilo City so that if accepted, Romano need not go too far away from home in Western Samar.
A few weeks ago, Romano did just that. He contacted the School and was given details on how to apply for dental school. He was also told of the need to take the admission exams followed by the digital dexterity test and personal interview. Supported with resources from the D4EVF Romano applied for admission and was given schedules for the different section of the admission examinations. Romano had no problem passing the admission test. He also passed the dexterity test and ultimately the personal interview with the staff from the dental school.
On May 11, 2023, Romano was given the good news. He was accepted. Therefore, in August of 2023 he will begin his journey through dental school. We hope and pray he will complete it and ultimately become the staff dentist at the Divine Mercy Integrated Academy Wellness Center. The school needs him to do that but more importantly, a resident dentist will finally be available for the people of Villareal, Western Samar.