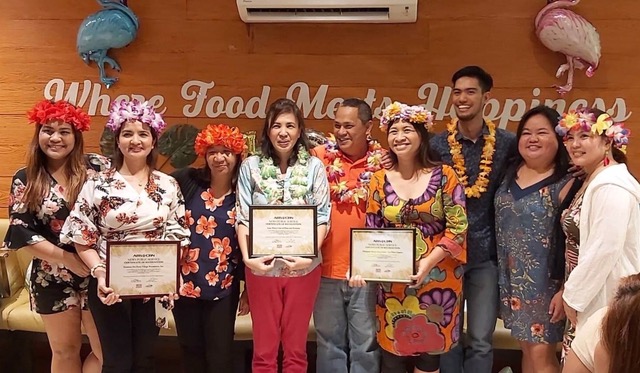 The Philippines' foremost and well-respected media conglomerate, ABS-CBN, Inc., presented Dentistry For Every Village Foundation (D4EVF), a Certificate of Recognition to acknowledge their humanitarian endeavors given at the multiple public service projects conducted for the poor and underserved for the past three years.
The Special Assistant to the President, Dr. Amry Jane Chavez, received the Plaque of Recognition on behalf of the D4EVF. It was presented at the ABSCBN News- Public Service 2019 Christmas Party held last Friday, December 20, 2109 at Café Dominique at West Triangle, Quezon City, Philippines by Ms. Rowena Paraan, Chief of the ABSCBN News- Public Service.
ABS CBN signed a Memorandum of Agreement with D4EVF three years ago to support the dental missions conducted quarterly by the Foundation. Since that day, ABS CBN through one of its public service departments, Lingkod Kapamilya Tulong Center have been supportive in many ways including providing transportation, lodging and food for the volunteers, assorted medications for distribution to the mission recipients and supplies to conduct the mission. They also provide personnel to support the missions and a fabulous mobile soup kitchen to feed those that come to the mission.
Also awarded Certificates of Recognition that same evening was the Inner Wheel Club of Las Piñas and Environs represented by Dr. Laris Rivers as well as the Las Piñas Chapter of the Philippine Dental Association headed by its President, Dr. Analie Bolinao.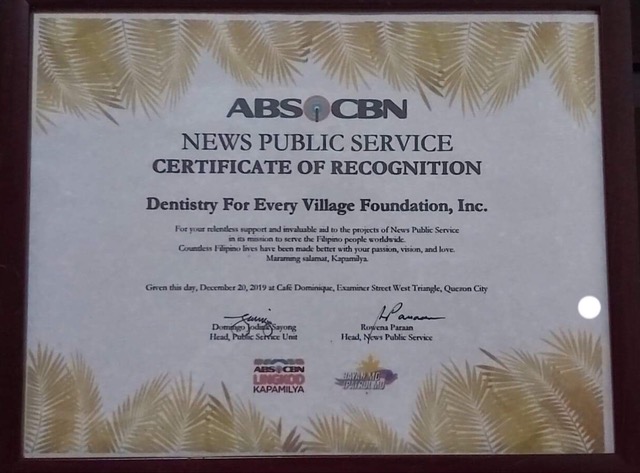 In the past several years, these two organizations had been the mainstay of the dental missions conducted by the D4EVF.  Their members join the missions at their own expense providing various health care services without expecting anything in return.
D4EVF is blessed to have such support from various sector of the community allowing them to continually provide humanitarian dental services for hundreds of people who otherwise would not have access to dental care.
The Foundation look forward to a more productive 2020 and beyond.