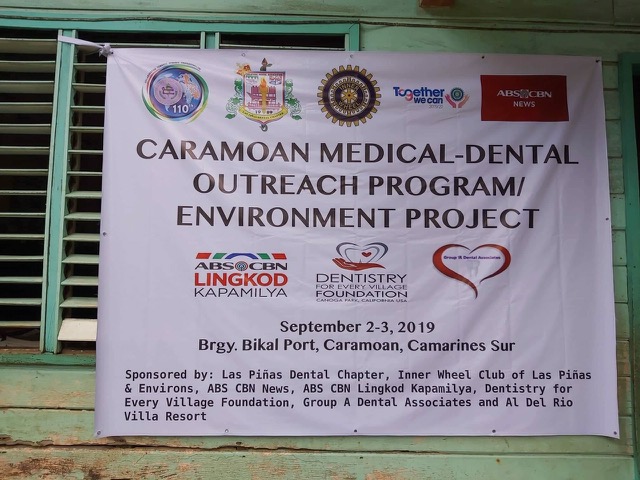 Every mission the Foundation does is normally geared to serve as many patients as possible. In fact, it is for that reason that the volunteers almost always set up their equipment a day before the actual mission date.
But Bikal is an exception. It has a very small population. In fact there are less than 2000 people leaving in the predominantly fishing village.  The very small number of residents gives the village a mixture of pros and cons.  Being small is pleasant as it is easy for people to know and support each other. But that also is also disadvantage because government resources and support are small as well. Thus, life is not exactly what it should be.
It is for this reason that the advance people that selects where our mission picked Bikal as mission site. By and large Bikal was selected by one of our partners and sponsors, the ABSCBN Lingkod Kapamilya.  They identified it as a place where our help can be most helpful largely because like most poor areas, it is neglected and underserved. A mission was set for September 2 and 3, 2019.
Our loyal supporters, the Inner Wheel Club Las Piñas and Environs, Group A Dental Associates and the Philippine Dental Association Las Piñas Dental Chapter, spearheaded the mission. Al del Rio Villa Resort, a local tourist destination also gave a helping hand as well as . Members of the 83rd Infantry Battalion of the Philippine Army, the Camarines Sur Public Health Office were there to support as well. Virginia Food Inc., donated food that was cooked for the villagers.
The presence of the volunteers was a boom for the villagers. Many took advantage of the services available. It is not too often that they get free medical and dental services.  Thus, they quietly waited for their turn to be seen by the volunteers. Sadly, as in many distant places we visit, there were a lot of extraction done because the villagers do not often go to visit dentists due to poverty.  Good oral health is the least of their worries. 
The volunteers also had a hair cutting session.  Army soldiers offered free haircut for young boys and a woman volunteer did the girls. There was also a hair lice treatment program for the children.
After the mission, the volunteers did something out of the ordinary. They joined coastal clean up project in a nearby island of Matukad at Lahos together with the Caramoan Municipal Environment and Natural Resources. The hour long dug out canoe ride was an experience for many of the volunteers. But the end result was awesome. Many of them have not seen such a fine island with white and pink beaches.
The volunteers did not only provide medical and dental services. They helped clean up the environment and planted some trees as well. And, they had a great time doing it!