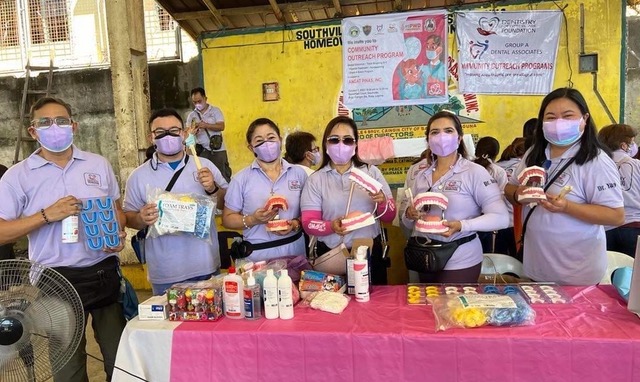 Embolden by a previous successful community service outreach mission they did last August 30, 2022, a collection of community groups that includes Youth Councils and the Office of  Congresswoman Rowena Guanzon, held another mission in support of Angat Pinas Foundation at the province of Laguna. The event was held at Barangay Caingin, Municipality of Sta. Rosa. 
Almost 170 children and young adults were taught proper handwashing procedures and given educational presentations on good oral hygiene and nutrition. After the presentation, a toothbrushing drill was held to reinforce what they learned through the presentation. Thereafter, application of fluoride anti-caries gels was done.  Toothbrushes and toothpaste were courtesy of Dr. Luz Villanueva and part of the fluoride gels were from Mr. Roco Ibe.
No other dental treatment including fillings, extractions, root canals therapy  etc., were done in abeyance with the memorandum  from the DOH and the PDA concerning aerosol generating procedures during dental procedures.
Following that,  games with lots of goodies as prizes including lots of toothbrushes, hand soap, face mask and a local comb called "suyod" were passed around. These combs are great for girls and young ladies that have head lice. Seventy huge packs of Bear Brand milk provided by Congresswoman Guanzon were made part of the nutrition donated by the Youth Councils and served to the attendees particularly the very young.
All of the goodies, food and other important goods were donated by well-meaning members of the community. Everyone that provided a service or help that allowed the mission to succeed so well were volunteers. There are a good number of them, and their names need not be mentioned individually. Suffice it to say, without their presence, the mission would have turned out differently.
The core group volunteers of Dentistry For Every Village Foundation  (Dr. Amry Chavez-Noza; ;Dr Luz Villanueva; Dr Cesar del Rosario; Dr. Maria Imperio; Dr. Maria Delia S. Picardal and her son, Dr. Karlo Picardal) did the dental part of the mission while all the other community leaders and volunteers, particularly members of the SK Group  of Caingin did the rest. Mr. Efren Noza made sure the event was thoroughly documented.
Its amazing how so many volunteers joined the mission including the Barangay (Village) leadership headed by their Captain and the Young Councils.
After the mission, the volunteers treated themselves with a trip to a fancy beach resort at the nearby province of Batangas.
It is worthwhile to mention that the various community groups initiated both missions in support of the goals of Angat Pinas and Dentistry for Every Village volunteered to join to provide the dental aspects of the community outreach missions. Angat Pinas group is an off shot of the presidential campaign of former Vice President Leni Robledo. It is now a socio civic foundation aimed at helping improve the social status of the poor and neglected Filipinos as well as to raise their community awareness and living standards.