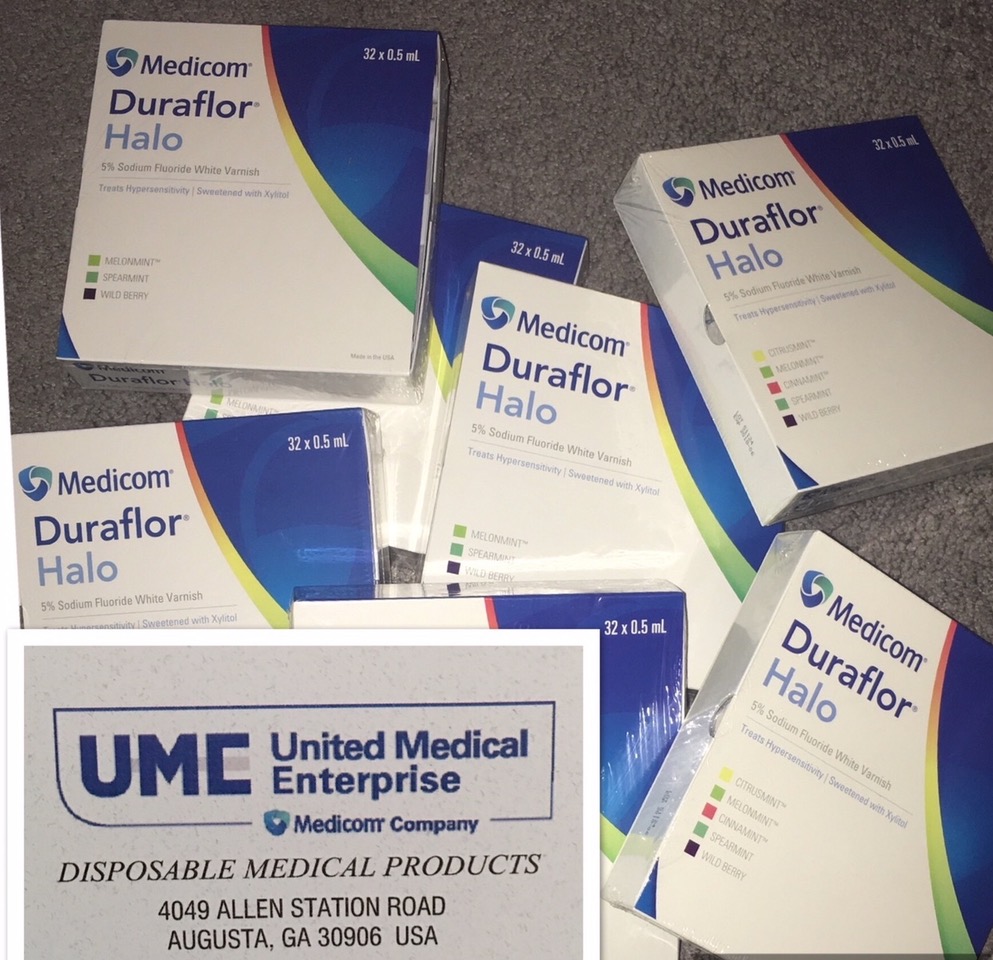 United Medical Enterprise (UMC), a branch of Medicom Company located at Augusta, Georgia, sent 8 boxes of sodium fluoride varnish (DuraFlor HALO 5% Sodium Fluoride) for use at the Dentistry For Every Village Foundation (D4EVF) dental mission on June 16, 17 at Nueva Ecija, Philippines.
The 8 boxes of the material will be enough for more than 250 patients. 
The donation was sent in response to the request of D4EVF President Ed de la Vega, DDS, for preventive dentistry supplies. The donation will definitely enhance the quality of the delivery of charity dental services being done by the Foundation with the support of more than 30 volunteer dentists from the Las Piñas Chapter of the Philippine Dental Association and the Group A Dental Associates. 
Fluoride varnish, when properly utilized, addresses issues dealing with dental decay. It is said to enter the tooth enamel and makes the tooth surfaces hard. It also prevents new cavities from forming as well as slowing down or stopping minor tooth decay from getting worse. If the decay is just barely starting, given the right conditions, it can potentially repair the tooth.
Medicom DuraFlor HALO, the particular brand of fluoride varnish donated, is said to release more than 3x the fluoride than other leading competitive brands over a four (4) hour period. It is utilized to "lead the fight against caries and for treating hypersensitive teeth. It contains 5% White Sodium Fluoride that dries to a natural white color to ensure patient compliance and provides the highest allowable fluoride concentration for the ideal solution to prevent and protect against caries" The product is convenient to use as it comes in pre-measured "Peel and Apply" packaging eliminating the risk of cross-contamination. It also comes in different flavors, is sweetened with xylitol for increased patient acceptance and gluten-free.
The donated fluoride varnish will be mostly utilized for pediatric patients and young adults that normally make up the great majority of patients seen during dental missions in the Philippines.
With the very generous donations made by United Medical Enterprise another outstanding company thus joins the growing number of dental related companies that support the missions of the D4EVF.
D4EVF wish to particularly thank Ms. Sheryll Ramos, the HR Manager of the company for spearheading the donation. The Foundation will forever be grateful for her kind help.
United Medical Enterprise was founded in 1986. The company's line of business includes providing hospital, medical and other health services to subscribers or members.