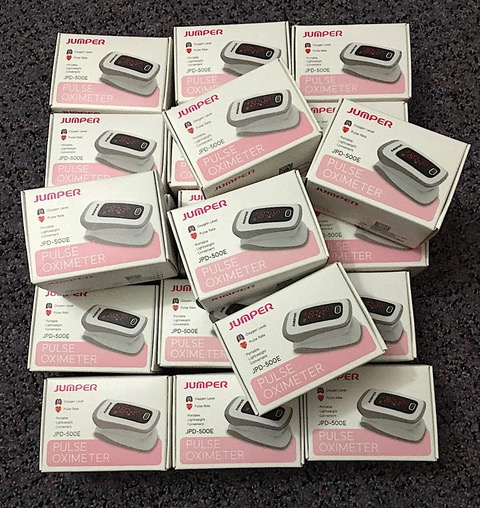 A day after Christmas 2021, the foundation got a late Christmas blessing! An unexpected donor hand delivered a surprise package.
El Sobrante, CA., resident, Matthew A. Ante, a California licensed Respiratory Therapist came to visit today to say hello and extend his family's Christmas greetings. On top of that he bought a bunch of brand-new Pulse Oximeters for the Foundation.
"I thought these will be of good use to your Foundation" he said as he handed us a box full of Jumper JPD-500E Pulse Oximeters. There were exactly 20 pieces in the box. If bought through eBay, the cost of the oximeters would have been $1780.00 ($89.00 each)
Pulse oximeters are small clip like medical devices that are attached to a finger to measure the oxygen saturation of a person's blood. They rapidly detect small changes in blood oxygen levels thus showing how efficiently blood carries oxygen to the extremities furthest from the heart.
An oxygen saturation level of 95% is considered typical for most healthy persons. A level of 
92% or lower can indicate potential hypoxemia, a serious low level of oxygen in the blood. 
With the availability of the pulse oximeters, foundation volunteers will now have added equipment to pre-screen patients that come for dental work during the missions. This vital procedure is particularly helpful since most of the patients due to abject poverty have not been to a doctor lately and have no clue of their health status. Some may have cardiac as well as respiratory conditions that can be triggered during the procedures. Others may even be 
covid-19 positive without knowing it.
Thus, it is important to have a way of measuring the vital signs of these individuals in order to make sure of their health status. The best way to do this is by a pulse oximeter. Patients exhibiting oxygen level below the norm must be referred to an appropriate medical entity before any dental procedure is performed on them.
The Foundation will keep some of the Pulse Oximeters. The rest will be donated to the local hospitals that have been previous recipient of their generosity, the Sta. Scholastica's Mission Hospital at Barangay Cabab-toan, Pambujan, Northern Samar and the Divine Word Hospital at Tacloban, Leyte.