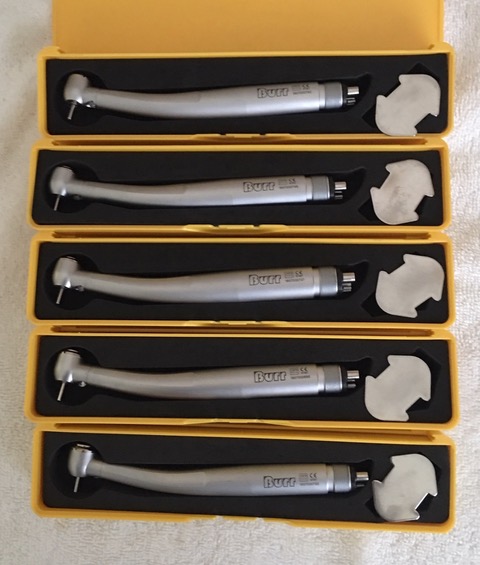 "I saw the post on your FaceBook Page asking for donations on "Giving Tuesday-December 2, 2019 to support your humanitarian dental missions in the Philippines", the donor said in his/her letter that was enclosed with five(5) handpieces sent to us, "and I thought you can use these handpieces", it added.
"I have plenty of these instruments as we buy them in bulk for our use, therefore I thought instead of just seating in our storage cabinets waiting to be used, I might as well send some to you. I know they will immediately serve you well," the letter continued.
The handpieces were of modest quality compared to the fancy one sold in the present market that cost over one thousand dollars each. But they are sufficient for our use as they are compatible to our present equipment stocked in the Philippines.
In addition, they have a self-generating LED light built-in within the handpiece itself, a feature that will be a huge help during our missions given that we don't always have the opportunity to work under good lighting conditions. The built-in LED lights on the handpieces will make life a bit easier for the volunteer dentists.
The donor obviously did not want to be identified otherwise he/she would have signed the letter, but we are positive he or she is a dentist from somewhere who just happened to have a generous heart.
Our request for donations during "Giving Tuesday December 2, 2019" was a small success. We did not hit our target amount, but we received enough and we are extremely pleased. Facebook will match the donations sent to us and that helps a lot.
With that, we will have some funds to upgrade our stock of hand instruments and more importantly, purchase spare parts to repair equipment that deteriorated due to constant use.
D4EVF wishes to thank the handful that responded to our appeal for donations particularly Jean Baptiste Dumas of Paris, France; Ed Regalado Jr., DDS of Las Vegas, Nevada; Angela Odom of Gig Harbor, Washington; Ruthie Malis of Danville, CA; Nenette Alfonso of Simi Valley, CA; Alexander Tang, DDS of Sta. Barbara, CA; and Ma. Josefina Lorenzana of San Francisco, CA.
To all these wonderful people, our sincere gratitude! Of course, the same goes to our dear anonymous donor that sent the handpieces.
Happy Holidays to all you good people!