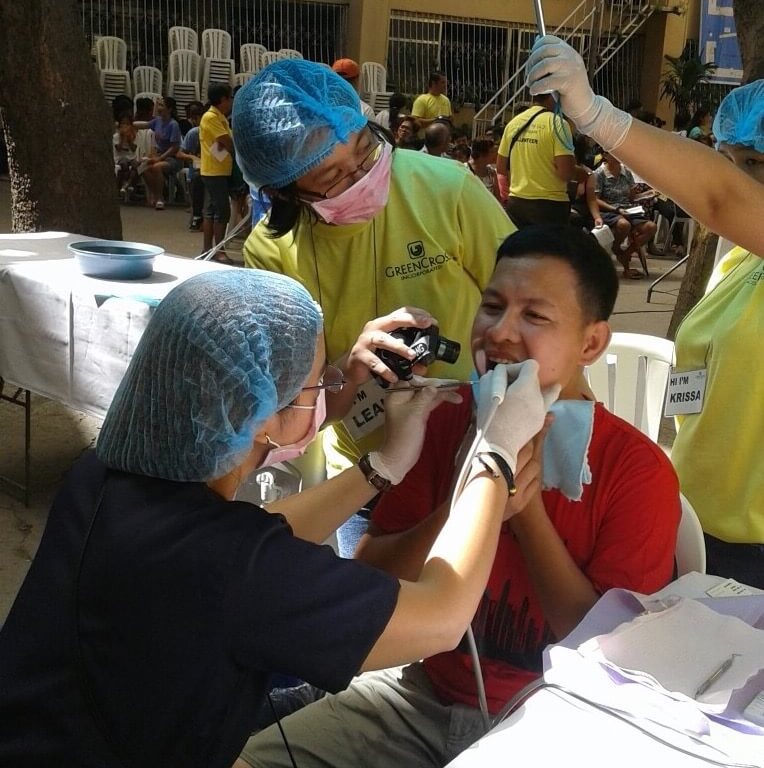 In line with the established program of the Dentistry For Every Village Foundation (D4EVF) to conduct regular dental missions and provide free dental services to the poor, the needy and the underserved in the Philippines, D4EVF volunteers conducted another dental mission last Sunday, March 26, 2017.
The venue was at the campus of the Arcadio Santos National High School located at Barangay (Village) Martin de Porres at Parañaque, Philippines.
The mission was a joint project of Green Cross Inc.'s "Tulay sa Kalusugan" (Bridge to Health) Medical-Dental Mission Programs and the D4EVF.  Physician and nurse volunteers from different areas of Metro Manila conducted the medical screening and provided the medical treatment for the patients. Green Cross provided all the medical supplies for the "medical" aspect of the mission and food for all the volunteers. They also funded the cost for the physical set up of the mission.
Staff from D4EVF headed by Dr. Amry Jane Chavez and Dr. Luz Villanueva assisted by four volunteer dentists and high school students from the area provided the dental procedures.
More than 100 dental patients were seen and over 250 procedures were performed in the daylong mission. Besides many other procedures done on the patients, fluoride application and sealants were done on the children and young adults. In addition, a tooth-brushing clinic was conducted and toothbrushes and toothpaste was distributed to everyone that attended the mission.
D4EVF provided all the dental supplies, post –op medications and sundries that were needed to do the dental procedures and also all the portable dental equipment and hand instruments to complete the procedures as well as the miscellaneous expenses of the crew.
The joint mission of Green Cross and D4EVF clearly demonstrate that other organizations are now being influenced by the activities of the D4EVF and they are joining with them so they can help expand humanitarian health services provided to the poor and the needy.