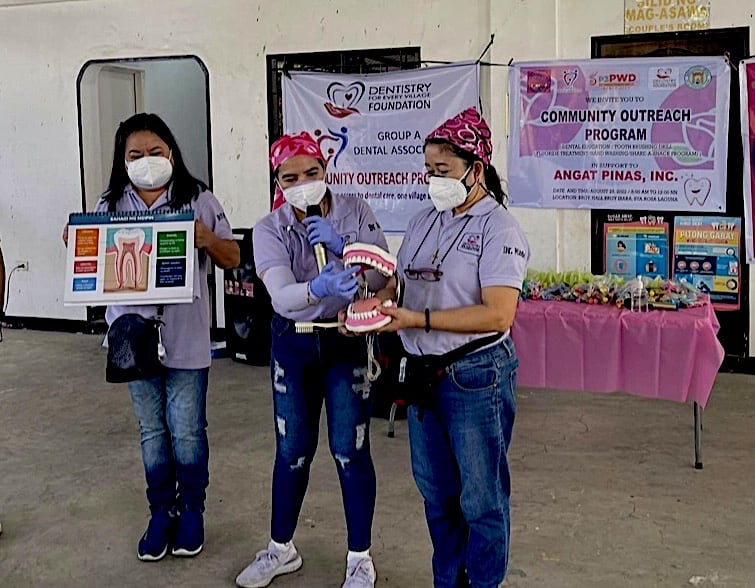 Since the dreaded Covid issues put a damper on the activities of the Foundation, staff has been continually seeking ways and means to keep the importance of dental care on the forefront of everyday life in the Philippines.  They can't do that by doing full-on dentistry, owing to the  Philippine Dental Association and DOH moratorium on dental mission procedures that generate aerosols. But there are other things they can provide.
One of these is holding a tooth brushing clinic for children and young adults.
On Sunday, August 28,2022,  the volunteers in cooperation with  like-minded civic  organizations, notably the Angat Pinas, staged a tooth brushing clinic at Barangay Ibaba, Sta. Rosa, Laguna, Philippines.
Support and funding were provided by the Office of Congresswoman Rowena "Bing" Guanzon,  including food for all the volunteers as well as sundries to use during the tooth brushing drill.
Many individuals supportive of the cause donated  bottled water, toothbrushes, toothpaste, and additional food for the volunteers. Dr. Girlie Ty donated cash for the breakfast expenses of the volunteers.
More than 100 children from the barangay as well as surrounding villages were given oral hygiene education, tooth brushing drills and fluoride application. In addition, the children were also taught the proper way of washing their hands, focusing on the 7 Steps in proper washing technique  as well as the proper use of hand soap. A demonstration was conducted to emphasize the details.
For the toothbrushing drills, each child was provided a toothbrush and toothpaste to use as well as to take home. In addition, "suyod" a Pilipino specialty comb designed to remove hair lice were also provided particularly to the girls.
Simple snacks were distributed to everyone. These were in form of low sugar home baked muffins and water.
In addition to the above, the children were also taught the importance of daily exercises and a group of volunteers taught them how to dance the Zumba.
Leading the D4EVF  volunteers were Dr. Luz Villanueva, Dr. Amry Jane Chavez-Noza, Dr. Maria Saquido- Picardal and her son, Dr. Adrian Karlo Picardal, Dr. Maria Leah Imperio, Dr. Cesario Del Rosario, Roco Ibe, and Efrenilo Noza.
They were joined by community volunteers, notably. Reda Sustento Juezan, Perfecto Montaño, Jr., Carlo Villanueva, Malu Mendoza, Greys Yunzon, Xamantha Ochoa, Wennie Cañega. John Ervin Pastidio, Jason Villegas, Eden Pado, Josie Villanueva, Patricia Fernandez, and Pina Jeanelle Apolinar. 
It is worthwhile to mention that one volunteer Carlo Villanueva came all the way from medical mission in the island of Mindoro. That entailed a two-hour ferry ride from Mindoro to Batangas and a couple of hours  bus ride to  Sta. Rosa, Laguna, the site of the mission. That is what volunteerism is all about!
Dentistry For Every Village Foundation wishes to thank the community leaders of Barangay Ibaba, Sta. Rosa, Laguna headed by Barangay Captain Relly Medina for their cooperation and for providing the venue, water, and power as well as for assuring peace and order. We salute you all!
Special thank you to Dr. Luz Villanueva and Dr. Amry Jane Chavez Noza for giving  each volunteer a token of appreciation. Dr. Villanueva gave some volunteers electric juicers and others, electric toothbrushes. Dr. Chavez Noza gave everyone multicolored headbands.