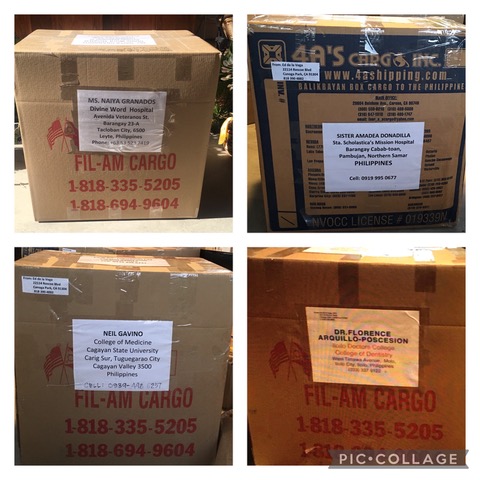 For the past several months, the D4EVF has been seeking donations and stocking supplies for their dental missions for summer of 2022 anticipating that the moratorium recommended by the Philippine Dental Association and followed by health care authorities will be rescinded soon.
Recently, they have initiated identifying potential areas of most need and these areas are now subjected to closer scrutiny to determine if dental missions in such areas are appropriate and viable projects.
The foundations had gathered numerous PPE's and have enough stock to do several missions. However, while waiting to be allowed to resume their missions they had been informed that certain institutions in the Philippines are in dire need of PPE's and other equipment to augment their enhanced infection control protocols.
Given the information, the Foundation officers opted to share some of their PPE stock to these institutions.  Four of "Balikbayan Boxes" were filled with PPE's and sent to the following institutions:
Cagayan Valley College of Medicine in Tuguegarao, Cagayan
Iloilo Doctors College of Dentistry in Iloilo City
Sta. Scholastica's Mission Hospital in Pambujan, Northern Samar
Divine Word Hospital in Tacloban, Leyte
The boxes were sent through the traditional "Balik Bayan door-to-door shipping". They contain disposable gowns, bottles of hand sanitizers, face masks, touchless thermometers and pulse oximeters.
Many of the items were sourced from the "Amazon Business Donation Hub". Amazon sent the items free of charge with the Foundation paying only the shipping cost. The pulse oximeters were donated by Mr. Matthew Ante, a respiratory therapist from El Sobrante, California.
The items are expected to reach their destination in 3 to 4 months given the delay caused by the pandemic and issues related to congestions at the LA/Long Beach and at the Manila shipping ports.