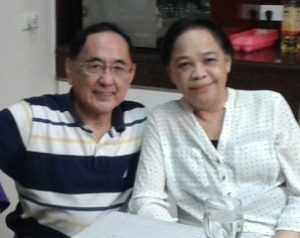 A couple of very generous and successful dentists from the City of Antipolo, Philippines recently donated a complete dental chair with a pole mounted unit, a cuspidor and operating light for the Foundation's charity dental clinic project that is now under construction for and eventually managed by a congregation of priests from the Rogationists of the Sacred Heart of Jesus in Parañaque, Philippines.
The donors, Dr. Guy Lapid and Dr. Carina Lapid own and operate many high-end dental offices around the country. They immediately made the donation upon learning that the Foundation is building a dental clinic for the Rogationists' charitable health care ministry.
"We want to be part of this noble project and we are pleased to provide one of the most important equipment in the clinic", said Dr. Carina Lapid. Dr. Guy Lapid for his part gladly stated- "Supporting a charitable project headed by Dr. Ed de la Vega is a no-brainer. The guy has a long and an outstanding humanitarian record"
The clinic will immensely enhance the Rogationists' ministry for the underserved residents in their area of responsibility. It will give them a better means of addressing the basic and emergency dental needs of the poor and underserved. Latest census indicates that there are more than 900 families that can immediately benefit from the Parañaque Project. A great majority of the members of these families have not been to a dentist for many years not because they don't want to but because they can't afford to.
"Putting up a free dental clinic for these indigent families to address their basic and emergency dental needs is a blessing. Many, particularly the children suffer from dental diseases that need to be attended immediately", stated Ms. Silveria "Silver" Salazar, a lay member of the congregation. Salazar is the prime mover of the fund raising efforts in the Philippines for the dental clinic and a strong advocate for the welfare and health issues of the underserved.
A donor that opted to remain anonymous has provided 50% of the cost to build the dental clinic and kick-start its construction. The Rogationists are providing the site for the dental clinic free of charge including water and power.
A fund raising drive, particularly in the Philippines is currently in full swing to raise the balance of resources needed to complete the project. As previously published in Foundation news section, a wall mounted dental x-ray has been donated by the Continental Dental Laboratories of Torrance, CA, an outfit that operates a huge dental laboratory in the Philippines. Other donations already accounted for includes a central vacuum unit and a 21-inch steam-driven high-efficiency dental sterilizer.
Donations to the project can be made by sending a check to the Foundation or through its website, D4EVF. All donations to the Foundation are tax deductible.