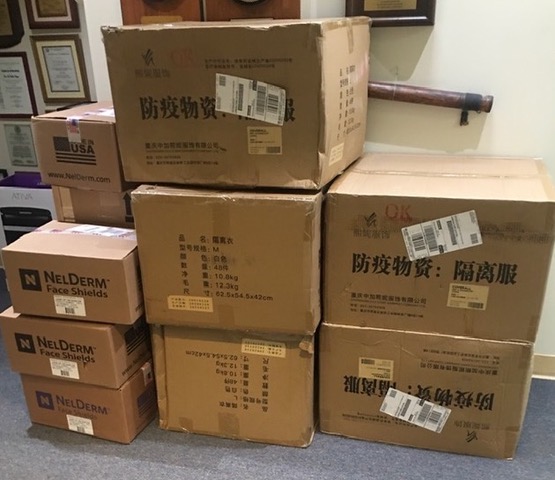 Sometime in late December 2020, an e-mail blast from Joseph R. Kenneally, the Secretary General of the International College of Dentists  (ICD) and addressed to Dr. Ed de la Vega, the Foundation President was received indicating that Personal Protective Equipment (PPE) maybe available for charitable organizations providing dental missions to the poor and needy all over the world. The PPE are available through the partnership of ICD and the Henry Schein Corporation in Melville, New York.
Dentistry For Every Village immediately responded to the email and sent a detailed list of PPE they need to complete dental missions in the Philippines.
In the middle of January 2021 another e-mail was received asking for the Foundation's documents to show that it is indeed a charitable and tax-free corporation (501 (3) (c).  The Foundation wasted no time in sending copies of the documents requested.
A few days later, another e-mail was received indicating that there undistributed stock of PPE that we are available for the Foundation through the Henry Schein Corporation. It also asked for the mailing address of the Foundation came.
The leadership took this as a clue that the Foundation maybe receiving PPE in the days ahead.
True enough, today January 28, 2021 several boxes were delivered to our address. The inventory includes disposable protective gowns of various sizes, contact-less thermometers, bottles of hand sanitizers and several boxes disposable facemasks.
The boxes were sent from the Henry Schein warehouse in the State of Nevada.
The Foundation is blessed that the ICD and the Henry Schein Corporation continue to support their dental missions in the Philippines. Although there is no specific timeline for the dental missions for 2021 owing to the lockdown brought about by the Covid19 virus, the leadership will start sending the PPE to their Philippine office via BalikBayan Boxes so that the PPE will already be stocked in Manila. Soon as the country opens for international travel, the Foundation leadership will fly to Manila to spearhead the missions.