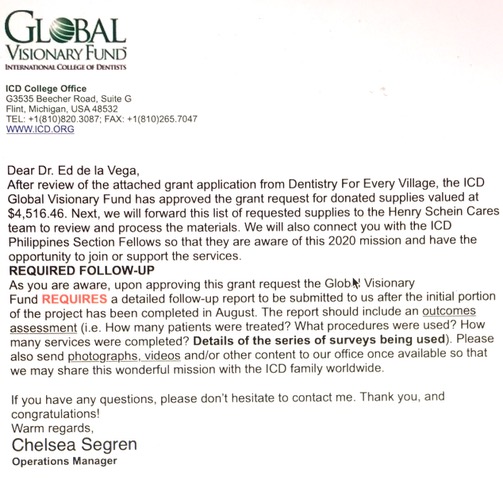 In reply to the D4EVF Grant Application sent to the International College of Dentists Global Visionary Fund, (ICDGVF), on November 17, 2019, the good people in charged of reviewing and processing all grant applications sent to the ICDGVF, approved the application for the D4EVF 2020 projects.
The approval is the fourth time ICDGVF has provided support for the D4EVF projects. Previously, it provided support for the 2016, 2017 and 2018 quarterly missions of the D4EVF.
The approval was received via an e-mail letter sent to the D4EVF Central Office by Ms. Chelsea Segren, the Operations Manager of the International College of Dentists based in Flint, Michigan.
With the approval, the ICDGVF forwarded the approved documents to the Henry Schein Cares Foundation (HSCF) the charitable arm of the multi-national Henry Schein Corporation based in New York.  HSCF will provide the supplies requested by the D4EVF for its 2020 projects.
Henry Schein, Inc., is a worldwide distributor of medical, dental and veterinary supplies including vaccines, pharmaceuticals, equipment and supplies. It has a huge and complete product selection and supply chain solutions for the three aforementioned professions. In additional it provides Digital Technology support and Business Solutions.
Through its charitable arm HSCF, the giant corporation pursues the ideal of "doing well by doing good" and they implement this through their global social responsibility program managed by the HSCF
The ICD Global Visionary Fund is the charitable arm of the International College of Dentists. It is a tax-advantaged (IRS 501c3) charitable fund created by the Council for the purpose of collecting and distributing monies in support of initiatives in dental education and humanitarian oral health care. The Fund allows the Council to respond to requests from ICD Fellows and other volunteers for financial assistance with their charitable works around the world, especially those of the ICD Regions.
The D4EVF is forever grateful for the unending support of the ICDGVF and the HSCF. Without their support, implementing the D4EVF humanitarian projects in the Philippines will be difficult at best.