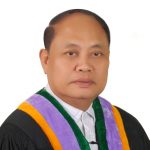 Taking cue from Professor Phillip Dowel, the ICD Director of Development and Chairman for the Global Visionary Fund, Fellow Bgen Reynaldo Torres, DMD President of Section IX Philippines sent a message confirming that they are joining the  D4EVF dental mission slated on September 1-2, 2017 at Barangay Planas,  Porac, Pampanga, Philippines that is aimed at providing basic and emergency dental service for the indigenous Aeta people in that area.
ICD Philippines President Brig. General Reynaldo Torres, DMD indicated in his message that eight Fellows from ICD Section IX Philippines will be joining the mission. They are Ricky Martin Llorca , DMD, Renoir Amba, DMD, Maria Lourdes Pacaldo, DMD, Edgar Gonzales, DMD,  Jerry Mateo, DMD , Laura Pascual, DMD, Celeste Lazo, DMD and Bgen Reynaldo Torres , DMD .
The International College of Dentists (ICD or "College") is a leading international honor society for dentists. ICD was conceived in 1920 and now has member in 122 countries that have been awarded the prestigious title of Fellow in the ICD (FICD).
ICD Fellows from the Philippines make up the ICD Section IX.
Fellowship in the College is extended by invitation only. A nominated dentist must pass a rigorous, peer review process leading to the recognition of the individual's "outstanding professional achievement, meritorious service and dedication to the continued progress of dentistry for the benefit of humankind."
All members of the College regardless of their native language or country of residence, adhere to one universal motto, "Recognizing Service and the Opportunity to Serve".
Section IX Philippines, besides its major involvement in the international dental scene provides its members invaluable information on the nuances and innovations in dentistry to help elevate their dental practices. They also offer leadership training for graduating dental students.
Further, Section IX Philippines is deeply in community activities and in environmental projects such as the Gawad Kalinga Philippines, Mangrove Seedling Planting and dental outreach programs to underserved villages in the Philippines. They also provide scholarships to local dental students.