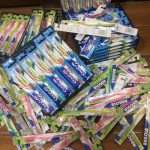 Dr. Luz D. Villanueva of Pamplona, Las Piñas City, Philippines donated hundreds of toothbrushes for distribution during the "Project Porac- a dental outreach mission aimed for the indigenous Aeta People" at Barangay Planas, Porac Pampanga, Philippines scheduled on Sept 1-2, 2017.
Dr. Villanueva is a member of the D4EVF corps of regular volunteers known as Group A Dental Associates.
Upon learning that the toothbrushes donated by SunStar Americas of Schaumburg, Illinois for Project Porac may not be enough due to the unexpected increase in the number of patients added to the list of patients by the Aeta Tribal Council to be seen during the outreach dental mission, Dr. Villanueva volunteered to provide at her own expense, hundreds more toothbrushes, assuring that everyone that comes to the mission will go home with a toothbrush.
Dr. Villanueva is a Past President of the Las Piñas Chapter of the Philippine Dental Association. She is the owner and lead dentist at a well-equipped and high tech dental clinic in Pamplona, Las Piñas City, Philippines that provides a variety of dental services ranging from general dentistry to orthodontics, implant dentistry and cosmetic services.