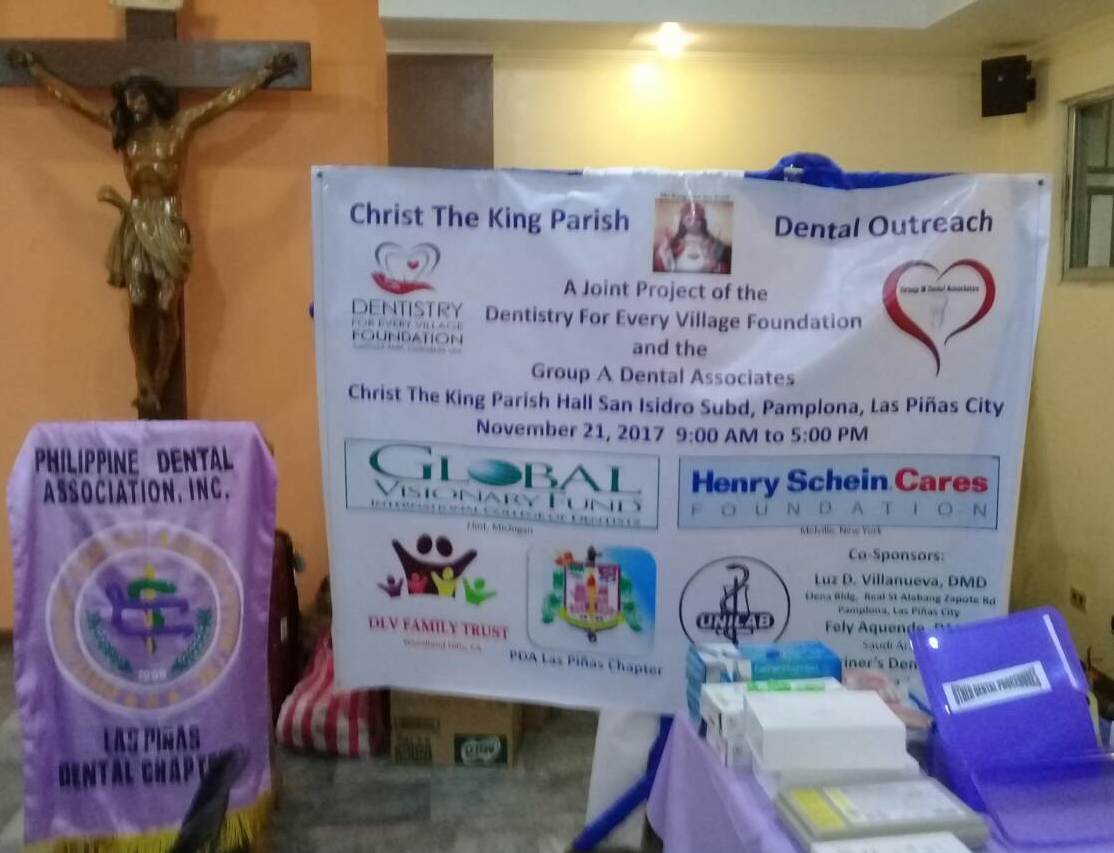 As in most dental outreach missions, putting together the logistics and preparing the site is not an easy task. Then, there is the issue of enticing volunteers to join and make the mission a success.
But for the Group A Dental Associates, the lead arm of Dentistry For Every Village Foundation (D4EVF) in all Philippine projects, putting together a dental mission comes as a second nature. Led by the indefatigable Dr. Amry Jane Chavez and supported by Dr. Belle Frondozo, Dr. Bem Vera Cruz and Dr. Luz Villanueva, these missions always come out as a rousing success.
The last D4EVF dental mission for 2017 held at the Christ The King Parish at Las Piñas City on November 21, 2017 was no different.
With the support of the Philippine Dental Association Las Piñas Chapter that provided dentist-volunteers and with the help of two dental assistants and 15 volunteers from the parish, a total of 121 patients were seen in one day.
Most of the patients seen were from the poor villages within the area of responsibility of the Christ The King Parish Church. These patients don't get to see a dentist unless dental outreach missions are done in their area. Therefore, a great majority of the work done was basic and emergency dentistry. These involved extractions, and composite fillings. Oral prophylaxis, particularly on adult patients with heavy calculus deposits, was the order for the day. Fluoride and sealants were provided for children and young adults. Oral hygiene instructions were also conducted and all patients were given toothbrushes, fluoridated paste, and dental floss.
The International College of Dentists, Global Visionary Fund (Flint, Michigan) the Henry Schein Cares Foundation (Melville, New York) donated the dental supplies and sundries for the mission. The DLV Family Trust provided resources to cover expenses related to the mission. UniLab Philippines donated the post-operative medications. Other donors include Dr. Villanueva of Las Piñas, Dr. Fely Aquende of Saudi Arabia and the Mariners Dental Clinic at Port Area, Manila.
The D4EVF provided all the dental equipment and hand instruments for the mission. These instruments are stocked at the D4EVF Rogationist Dental Clinic at Parañaque City for use in all D4EVF dental missions in the Philippines.
Christ The King Parish at Las Piñas City