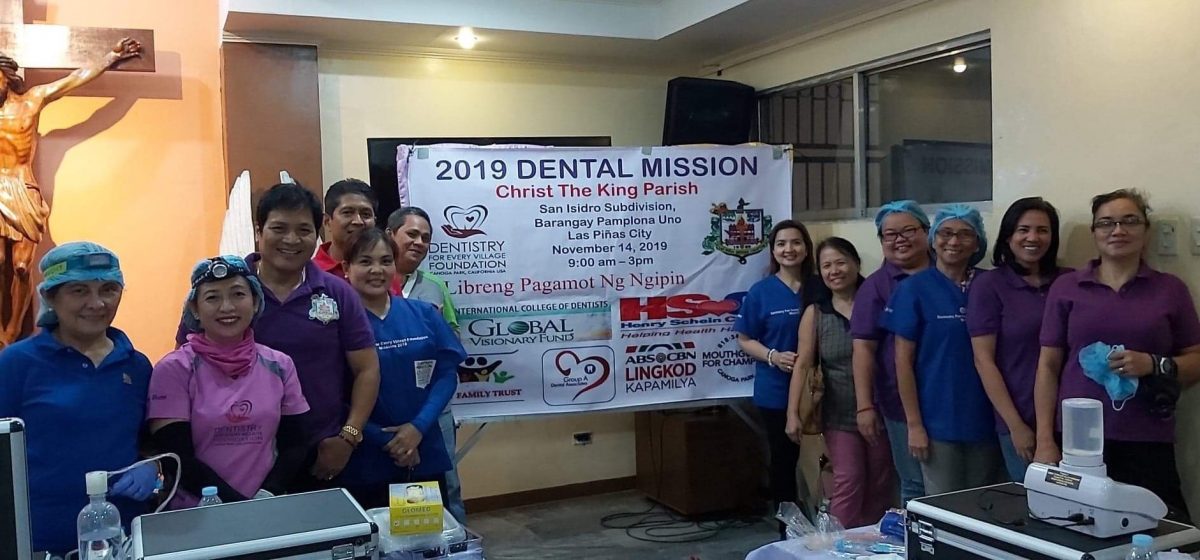 As it has been the tradition of the large Christ The King Parish at Barangay Pamplona Uno, San Isidro Subdivision, a "traditional fiesta" is held every November. The festivities ushers the Christmas season for the hundreds of residents and parishioners in this Barangay at Las Piñas City, Philippines.
To coincide with the celebrations, Dentistry For Every Village has conducted a dental mission for the villagers for the last three years. This year's event was held Thursday, November 14, 2019 at the parish church main hall. The event has become a much-awaited activity for the villagers as the mission provides them their yearly dental check-up plus emergency and basic dentistry.
Joining the D4EVF volunteers spear-headed by the Group A Dental Associates  (Drs. Amry Jane Chavez and Cecily Rios Vera Cruz are members of the Las Piñas Dental Chapter of the Philippine Dental Association headed by its President, Dr. Analie Bolinao, as well as members of a local dental social group called The Astig Group.
Additional volunteers came from the Inner Wheel Club of Las Piñas and Environs, PDA's Pitong Gabay and from the Parish Church.
Philippines' largest media conglomerate, The ABS-CBN through its humanitarian section called Lingkod Kapamilya provided a mobile soup kitchen and fed every single person that came to the mission. Many children particularly, including those that did not need dental work got fed as well. ABS-CBN also provided medications, mostly antibiotics, pain and fever medicine and anti-cough syrup.
Lingkod Kapamilya also brought with them a medical doctor,  Christianitz Rosas, MD who conducted routine medical check-up for the villagers and referred those that needed further medical work to local hospitals and doctors.
All volunteers were provided a sumptuous lunch and snacks by the D4EVF and the Parish Pastoral Council.
Using the D4EVF equipment and supplies from the stock at the D4EVF headquarters, the volunteer dentists performed hundreds of procedures including extractions of hopeless teeth and composite restorative fillings. Preventive dentistry was given a large priority therefore many patients got their teeth cleaned, received tooth brushing instructions and new toothbrushes and toothpaste.  Fluoride sealants and topical fluoride application were provided for everyone under the age of 18 that needed them. 
The D4EVF wishes to thank all the volunteers and donors for their four (4) missions in 2019 particularly their main sponsors International College of Dentists Global Visionary Fund and The Henry Schein Cares Foundation.  Without these two generous companies based in the USA,  the D4EVF Missions would not have been completed.
A blessed Holiday Season to all. Thank you for your support!