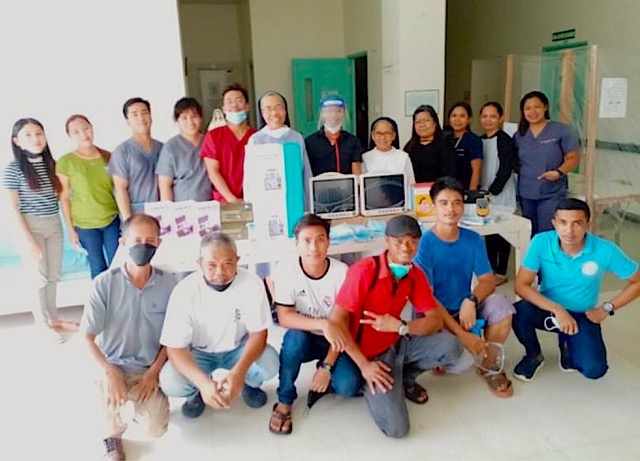 The Foundation recently received word that finally, after four long months, the equipment sent to the Sta. Scholastica's Mission Hospital at Barangay Cabab-toan, Pambujan, Northern Samar, Philippines has finally arrived.
Sister Amadea Donadilla, the Administrator of the tiny 25-bed mission hospital located some two-hour drive from provincial capital of Catarman sent the message happily acknowledging that the "balikbayan box" has finally arrived and they had opened and catalog all its contents.
Her message included photos of the equipment with the administrative, medical and nursing staff.
Amongst the equipment inside the box were two much needed patient monitors for their critical care patients and suction units that would be very useful for their pulmonary cases.
There were also a bunch of aneroid sphygmomanometers for adults and children sent and stethoscopes for the nursing staff. The aneroid sphygmomanometers were selected in lieu of the more popular battery-operated digital units so that there will be no need to buy batteries which sometimes are hard to find in the far-out rural area where the hospital is located.
One equipment that they were so glad to receive was a portable, heavy-duty pulse oximeter for monitoring percentage of oxygen saturation in blood (SpO2), pulse rate, pulse strength and perfusion index with accuracy and ease. It has a memory feature and 72-hour data storage along with optional data management software capabilities for PC storage. It also has an optional pediatric probe attachment.
More equipment notably, a defibrillator and oxygen generators are in the process of being procured and hopefully will be sent before the second quarter of 2022.