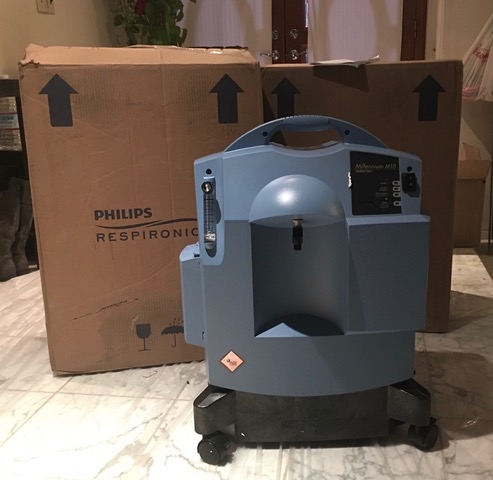 With the ever-increasing probability that Sta. Scholastica's Mission Hospital, a 25-bed facility located at Pambujan, Northern Samar, Philippines eventually has to deal with Covid 19 patients, their need for more equipment that will be useful in the management of such patients is becoming extremely urgent.
Sadly, the small mission hospital is not sufficiently equipped to handle such patients because of engineering and funding issues. "We don't have enough equipment to deliver oxygen to multiple patients and the oxygen itself is very expensive. It cost over 800 pesos to fill a tank", said Sister Amadea Donadilla, the hospital administrator. "We rely a lot on donations so we can't afford to produce our own oxygen like big hospitals do. We don't have sufficient funds to buy a commercial hospital-grade oxygen generator that cost thousands". 
Hearing such issues, the D4EVF set out to help and find a solution.  
The answer came in the form of portable oxygen concentrators. 
These relatively small machines can deliver as much a 10 liters per minute of continuous flow of oxygen and can run for 24 hours, an issue that is very important for patients with breathing problems.  They are also designed to deliver "pulse doses" depending on the need of the patient. Unlike old fashion oxygen metal cylinders, they are portable and can be easily moved from bed to bed as they are on rolling wheel casters.
Oxygen Concentrators are also much less dangerous than traditional oxygen cylinders, which can, if ruptured or leaking, cause or increase the combustion rate of a fire. And they are very simple to operate.
These machines work by processing room air that is 78% nitrogen, 21% oxygen and 1% other gases. Through a filtration process they separate the nitrogen from the oxygen and the resulting product is 90-95% oxygen.
The foundation staff did some research to find suitable oxygen concentrators for the hospital. They settled on Respironics Millennium M10 that comes with oxygen percentage indicators. These units are marketed by Phillips Healthcare, a very refutable US health care company. The Foundation also purchased extra Salter Oxygen Kits and Oxygen face masks to complement those that came with the main units.
The D4EVF wish to thank the following kind-hearted and generous people that contributed resources to purchase the two (2) units of oxygen generators and other equipment previously sent last year to the hospital. 
Platinum Level Donors:
Maritoni Olaer, DMD (Eagle Rock, CA)
Victor Rosales, DMD (Covina, CA)
Gold Level Donors:
Russell Rayman, MD (Alexandria, VA)
Lourdes Aquino, DMD (Van Nuys, CA)

 

Loida Parungao, DMD (Los Angeles, CA)
Ramil Macasaet, DMD (Chatsworth, CA)
Racquel Macasaet, DMD (Chatsworth, CA)
Carolina Pablo, DMD (Winnetka, CA)
Domingo Espiritu, DMD (Iselin, NJ)
Grace Serrano, DMD (Los Angeles, CA)
Mojgan Ghiai, DDS (Northridge, CA)
 

Silver Level Donors:

   
Corazon Bustos-Ali, DMD (Escondido, CA)
Jack Moreno, DMD (Chatsworth, CA)
Tom Wright (Encino, CA)
Glenda Joson, DMD (San Dimas, CA)
Armaine de Vela, DDS (Los Angeles, CA)
Debbie de Vela (San Gabriel, CA)
Luisa de Vela (San Gabriel, CA)
Ma. Josefina P. Lorenzana (Antioch, CA)
Bronze Level Donors:
Rose P. Miller (Sherman Oaks, CA)
Heather T. de la Vega (Canoga Park, CA)
Carlita Pilapil (Fremont, CA)
Rodrigo Mijares (Las Vegas, NV)
Raymond Spencer (Henderson, NV)
Robert Macabagdal (Las Vegas, NV)
Rodel Pecson (West Orange, NJ)
The oxygen concentrators will be shipped via "balikbayan boxes" and should arrive at the hospital in 75-90 days in time for a medical- dental mission the foundation plans to conduct at the hospital tentatively scheduled on the latter part of the second quarter of this year.