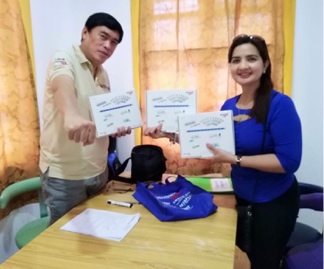 It is so heartwarming to see that finally after a couple of years doing charity dental missions in the Philippines, local corporations are slowly recognizing the value and the essence of what we do as a Foundation.
We had been soliciting help from different companies and possible donors to our Foundation so we can carry better our goal of providing free dental services to people in poor and marginalized villages in the country that seem to have been forgotten by the powers-that-be and society in general.
The first local corporation that responded to us was the giant media corporation ABS-CBN. In fact we recently signed a MOA with them that enhances the charity work we do.  Now we are tied up with one of their subsidiaries, the Lingkod Kapamilya Tulong Center. Last March, we did our first project with them and treated 256 patients in six hours and on June 17th the Foundation will be doing another joint project with them.
The second corporation to respond to us is Pandora Equipment Specialists Corporation headed by Mr. Sid de la Cruz. Pandora deals with dental equipment and supplies. More importantly, they also have a charitable arm that does missions similar to what we do. Recently, they team up with the Rotary Club and a group of dental technicians and they provided free dentures to needy people. In addition, Pandora often sponsors continuing education courses for dentists and other related auxiliaries.
Mr. de la Cruz communicated with us indicating that his company wishes to make a donation to us. We readily passed the information to Dr. Amry Jane Chavez, the Philippine-based Special Assistant to the President of the Foundation, Dr. Ed de la Vega. Dr. Chavez met with Mr. de la Cruz at the Pandora corporate offices and it was there that the transfer of the donated items was made.
Mr. de la Cruz handed Dr. Chavez three boxes of composite resin filling materials manufactured in Italy that has a retail value of more than P40,000. The donated material will allow the Foundation volunteers dentists to manage hundreds of cavities, which if left unattended will surely lead to their loss.
In the meanwhile, Dr. Amie de Jesus, a practicing dentist and proprietor of "Dental Access Magazine", a local trade magazine for dentists and allied professionals also made a donation.  She sent saliva ejectors that will complement the 4 new vacuum evacuators recently acquired by the Foundation. Dr. de Jesus sent 500 pieces of saliva ejectors through Dr. Amry Jane Chavez.
On top of Pandora and Dental Access Magazine another donor who elected to remain anonymous gave four sets of composite resin filling materials as well that are best used for anterior restoration where esthetic is a primary concern.
The Foundation is hopeful that many more corporations and individuals will respond to their plea for support so that the more than thirty volunteer dentists from the Las Piñas Dental chapter of the PDA and the Group A Dental Associates will have continuous resources as they carry out the mandate of Dentistry For Every Village Foundation.