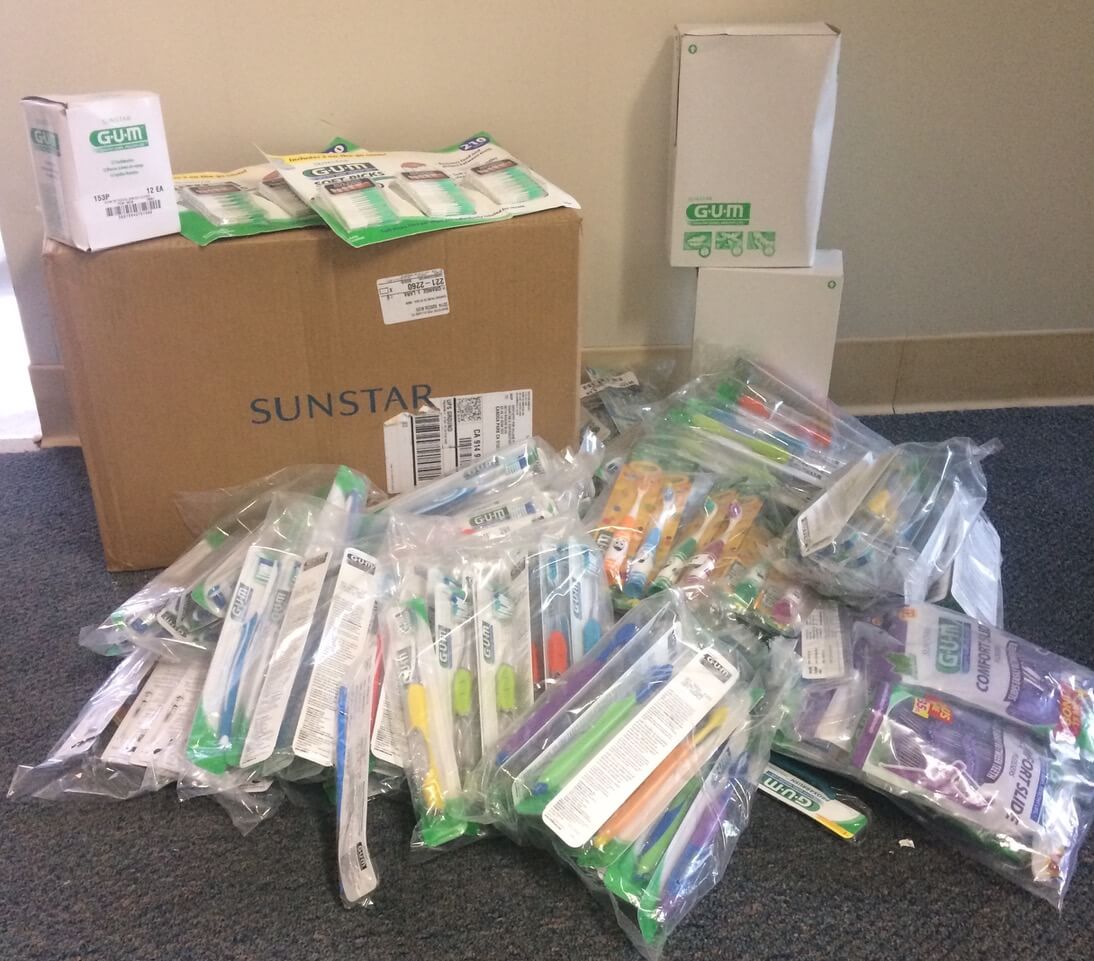 Once again, SunStar Americas, Inc., a giant oral hygiene product manufacturer based at Schaumburg, Illinois provided their products to support the projects of Dentistry For Every Village Foundation.
SunStar Americas sent a box full of assorted toothbrushes for children and adults, dental floss and interproximal cleaners to support the Foundation's mission at Porac, Pampanga, Philippines that is aimed for the indigenous Aeta People.
The Porac Project is anticipated to provide basic and emergency dentistry to more than 300 residents from Aeta villages in Porac. The project is slated in early September at Barangay Planas, Porac, Pampanga at the grounds of the Psalmville Antioch Church headed by Pastor Jay Casipunan.
A word about SunStar Americas:
* Dr. John O. Butler, a periodontist from Chicago, started the Company in 1923 with the introduction of a 2-row, 12 tuft, wide-handled toothbrush that answered the specific need of dental professionals for a fine quality toothbrush that met oral hygiene requirements. Toothbrushes at that time were too large and bulky to reach all the way to the back of the mouth. They were made in various shapes and sizes designed mostly for appearance rather than for any scientific reason.
Adhering to a basic philosophy of research and development in preventive dentistry, Butler remained virtually a one-man business — Dr. Butler did all the selling, administration, and educating himself. The success of his design was demonstrated by the fact that competitors developed similar designs and challenged his market position within 10 years after he began. However, the strength of Dr. Butler's integrity, innovation, and quality reputation allowed the company to thrive.
While Dr. Butler's philosophy of preventive dentistry gained acceptance, another individual began research into the correlation of oral cleanliness and dental disease. Dr. Charles C. Bass, a physician and Dean of Tulane University Medical School, began studying dental diseases upon his retirement in 1940. He substantiated the theory that oral hygiene was related to dental caries (decay) and periodontal (gum) disease. Dr. Bass also designed the "Right Kind" toothbrush and gave The John O. Butler Company exclusive rights to market it. This product is still offered today.
Dr. Butler sold the company to an investment group in 1949 and they expanded the business, adding new products, a field sales force, penetration in the retail market, and overseas operations or distributors in over 50 foreign countries.
In 1988, Sunstar, Inc., a leading Japanese manufacturer of health-related consumer products took ownership of the company. Sunstar's strength and experience in manufacturing, research, and development have enhanced the company's ability to grow and prosper. The company was renamed Sunstar Americas, Inc., and continues to use its well-known brand names GUM® and Butler® for all its products.
Today, Sunstar Americas, Inc. employs over 600 people worldwide. In addition to its U.S. headquarters in Chicago, Illinois, it has operations Canada, Mexico, and Argentina.
*Source: SunStar Americas Website