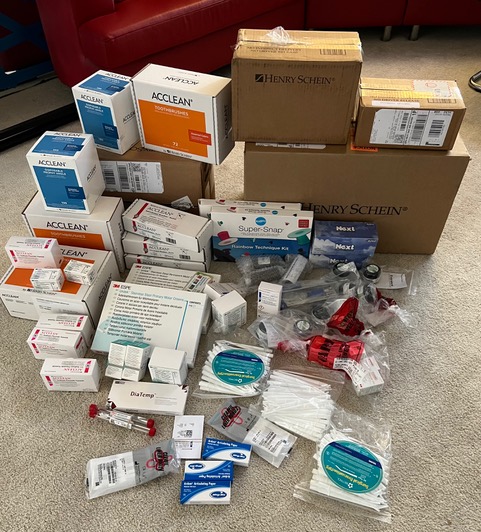 As the saying goes: "When I rains, it pours" and the blessings for the D4EVF just continue to come!
About two months ago,  the D4EVF sent a Grant Request Application  to  the International College of Dentists Global Visionary Fund (ICDGVF) requesting  support for their latest project – the building of a full-service dental clinic at Villareal, Western Samar and the outreach mission to be conducted to officially open the clinic
The D4EVF requested supplies for the dental outreach mission that is set  to see upwards of 200 indigent patients from the municipality  as well as  start-up supplies for the clinic itself.
Recently, the D4EVF received word from the ICDGVF that the Grant Application was approved by the Grants Committee and that they have informed Henry Schein Cares Foundation (HSCF) of such approval.
HSCF will be providing the dental supplies through the huge dental supply department of the mother company, Henry Schein, Inc., and are shipping them to the Foundation. 
The  market value of the donation is $6,311.61. That is equivalent to more than P366.000 in Philippine money.
The donation will be the largest ever both entities has provided to the D4EVF. It is even more than the support given when the D4EVF built a similar dental clinic at Pambujan, Northern Samar in the year 2015  and at Parañaque City, in 2018.
The donated dental supplies and many small equipment needed for the new dental clinic will be transported by the D4EVF officials when they fly to Manila in the next few days. 
As per agreement with ICDGVF and the HSCF, all the donated supplies will be used strictly for the outreach missions, and some will be provided as start-up supplies for the new clinic. All other remaining supplies will be accounted and stored at the Philippine office of the D4EVF under the care of Dr. Amry Jane Chavez-Noza, the Special Assistant to the D4EVF President. These supplies will be used for the succeeding missions of the D4EVF in 2023.
It is also noteworthy to say that per agreement with the ICDGVF and the HSCF, the D4EVF will be responsible for any customs duty that may be imposed by the Philippine Government, when the supplies are transported to the Philippines although in the past, everything that is "mission related" were given free pass by the Philippine Government.
Appropriate acknowledgment  will be given to the ICDGVF and the HSCF at the new dental clinic
In form of a commemorative plaque and donor's plates that will be made as permanent markers at the new dental clinic.
The dental clinic will be run by the priests and nuns of the Franciscan Order of the Divine Mercy  as part of their humanitarian health care ministries for the poor and underserved in their area of responsibility. It will be house at the Wellness Center of the Divine Mercy Integrated Academy at Villareal, Western Samar.
Post Script:
The donated dental supplies were delivered to D4EVF  October 6, 2022.