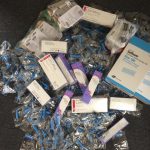 For the second time, the International College of Dentists Global Visionary Funds and the Henry Schein Cares Foundation donated core dental materials needed for the dental missions the Dentistry For Every Village Foundation conducts in the Philippines. The value of the materials amounts to  $2982.46.
The two generous donors sent dental supplies that will allow volunteer dentists do extractions with less to worry about post-operative bleeding by donating Gel Foam, a coagulant used after extractions, and suture materials. They also sent preventive products like  fluoride gels, and sealants that do wonders in preventing dental caries. On top of that they sent composite filling materials that will be used to restore teeth with decay as well as supplies to allow us perform oral prophylaxis including 1000 pieces of disposable of prophy angles and polishing pastes.
The ICD Global Visionary Fund (GVF)  is a  tax-advantaged (IRS 501c3) charitable fund created for the  purpose of collecting and distributing monies in support of initiatives in  dental education and humanitarian oral health care of ICD Fellows and other volunteers in their charitable works around the world,  especially those of the ICD Regions, of which the Philippines is one.
Established in 2008, the Henry Schein Cares Foundation, Inc. works to foster, support, and promote dental, medical, and animal health by helping to increase access to care in communities around the world.  The Henry Schein Cares Foundation carries out its mission through financial and health care product donations to non-profit organizations such as the Dentistry For Every Village Foundation, supporting health care professionals and community-based programs focused on prevention, wellness, and treatment; disaster preparedness and relief; and capacity building of health institutions that provide training and care.
The donations received on August 25, 2016 arrived way ahead in time for the next dental mission of the Dentistry For Every Village Foundation in October 7 and 8, 2016 at a municipality in the Visayas Region in the Philippines called Dumarao in the Province of Capiz. This second-class municipality has 32 barangays (Villages) some of which are populated by the indigenous Ati people and another indigenous tribe called Bukid-non.
This mission is specifically for them.
Five dentists from the Group A Dental Associates in Las Piñas City, two physicians from Roxas City and seven registered nurses from  local hospitals will comprise the  core volunteers. A handy man to set up/ break down equipment and provide on site repairs if needed, is also included. D4EVF President, Ed de la Vega, DDS  of Canoga Park, California heads the group.